Powder Rune
digital artist
Status: Closed
---
What are Wing-Its?
a commission type where the only directions that may be provided are visual design references and a few of your character's personality traits and quirks.

Due to the nature of wing-its, no sketches or WIPs will be shown. Edits are not allowed UNLESS I missed a detail/marking/design element that was clearly provided. If it was not in the original reference images, no modifications may be made.
Acceptable
good-natured

cheerful

voracious vegetarian

loves bringing back spoils from adventures
References contain at least one image per character that shows their color scheme, any detail shots and/or extra images that depict design elements.
Unacceptable
"my character is a calm and collected master swordsman who always carries his twin katanas. I want him to hold the blue sword in his mouth and the red sword in his right hand. His left hand should be resting on a sheath at his side. He should be smirking with one eye closed and one leg up on a rock at a crossroads..."
References contain zero images that show the characters' color scheme, pose suggestions, extra images that do not depict any design elements on the character(s), and/or illegible screenshots.
I am only offering "Wing-It" commissions, effective for an indefinite amount of time. I apologize for any inconveniences.
---
Composition Types
Bust
$50.00
Includes shoulders, chest, and usually one arm and/or hand.
Half Body
$70.00
Cuts off anywhere between the hip and thigh depending on the composition.
Extra fees will be applied for detailed designs.
Additional Options
2 characters (doubles the base price)

NSFW (+25% of base price)

Simple natural environment background such as sky, grass, and/or foliage (+25% of base price)

Weapons, props, and/or small creatures (quote will be provided after reviewing)

Powder Rune's OC discount (-10% off base price)

Hero/Champion tier patron discount (-5% off base price)
Terms of Service
Commissioning
I do not take commissions on a first come, first served basis.

I may decline requests for any reasons (difficult, uncomfortable, poor references, not interested, etc).

You are only purchasing a digital image file (.png).

No private commissions; all work will be posted online.

If you want me to write something specific and/or put a watermark on the source post, please let me know prior to starting your commission.
---
I Will Draw
OCs and fan art

Anthropomorphic and furry characters

Animals

Simple fantasy weapons and armor

"soft" NSFW content, at a rate of +25% of the commission cost
Light BDSM, exposed breasts, lactation, and semen are some examples of things that are OK to request.

The characters involved must be age 18+ and look like adults.
I Will NOT Draw
Characters without visual references

Character designs (including albums of reference parts that I need to Frankenstein together)

Reference sheets and turnarounds

Elaborate backgrounds

Mechas, vehicles, or complex machinery

Genderbends

"hard" NSFW content, including but not limited to:
Porn and sexual intercourse

Any detailed, visible genitalia below the waist (but genitals can be censored or implied)

Extreme fetishes such as vore, hyper, bodily wastes, gore, infantilism, and lolis/shotas or underage characters in sexual situations.
Approved on a Case-by-Case Basis
Alternate images (+30% of base price)
Only one (1) alt image is allowed

Must be simple

No alts where any body part has to be redrawn, modified, or transformed in the second image. (ie. skindentations in thigh high > no thigh high alts or undersized bikini top > nude alts; hands open > fists clenched alts)

Facial expression alts are OK as long as the head shape and angle does not need modifications.
---
Payment and Refund Policy
Prices are in USD.

Full payment is required up front via Paypal.

I will send an invoice to you when I have accepted your commission.

Invoices must be paid within 72 hours.

Full refunds will only be provided if for some reason I am unable to deliver your commission within 180 days after payment.

Partial refunds will be provided if you decide to back out for any reason, have poor communication, or exhibit inappropriate/aggressive behavior during the process. The refund amount is at my discretion depending on how much work was done.

No refunds will be provided for completed artworks.

If you back out of a partially-finished commission or initiate a Paypal chargeback without my consent, you will lose all rights over the commission piece and I will be free to re-utilize it, re-purpose it, and/or use it for profit.
---
Processing
I may not finish commissions in the chronological order that I have received them.

Turnover time is approximately 1 week per drawing. So if you're in a queue with 2 others, expect about 3 weeks wait after you've paid.

Commission queue and progress can be viewed on Trello. Feel free to contact me at any time for any reason, but for quick, simple questions such as "how far are you along the queue list?" keep in mind that the answer may be easily found on Trello!

For Wing-its, edits are not allowed UNLESS I missed a detail/marking/design element that was clearly provided. If it was not in the original reference images, no modifications may be made.
---
Uses
The commissioned artwork may not be edited without my consent, redistributed, reproduced, or used for profit, which includes but is not limited to paid digital downloads and physical merchandise.

You may use your commissioned artwork for character galleries, avatars, forum signatures, and other personal, noncommercial uses, but please credit me*.

Commissioned artwork is for personal and noncommercial use only, unless otherwise discussed. DO NOT use my art on Twitch (if you are an Affiliate or Partner), monetized YouTube channels, Patreon, or on any platform you generate income with.

If you wish to use commissioned artwork on a platform that you generate income with, please email me at [email protected] to request commercial use.
a +150% commercial use fee will be applied if artwork is to be used as avatars, banners, cover photos, thumbnails, and similar assets (please inquire).

a larger commercial use fee will be applied if artwork is to be made into ads, digital merchandise, physical merchandise, and similar assets (please inquire).
You may repost the commissioned artwork, but please credit me*. Do not repost any of my art that you did not purchase.

If posting my artwork to large groups (ie. Discord servers, Reddit), please credit me*.

I retain all rights to the artwork itself. I may use the commissioned piece for promotional purposes. If I want to create merchandise with the commissioned piece, I will seek your permission and must receive your full consent to do so.
* Preferably, credit includes a link back to https://twitter.com/PowderRune or my original post, but when inconvenient, mentioning "Powder Rune" is enough, thank you!
---
If you have any questions or concerns regarding my TOS, feel free to email me at [email protected] to discuss. Thank you for your interest in my work!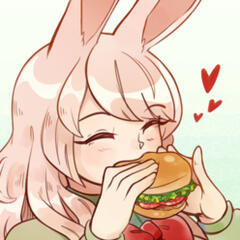 Digital artist and rabbit enthusiast. Inspired by anime, video games, and Dungeons & Dragons. Illustrates kemonomimi and medieval fantasy themes.
Please do not repost, copy, edit, or profit off of my illustrations.